Mobile applications and their surging popularity is changing the way businesses operate online. The current pandemic and the changing customer demands require companies to upgrade their mobile applications as per the current trends. Staying abreast with the latest mobile app development trends will enable companies to stand out and be relevant to the evolving user demands.
But, what are the latest mobile app development trends in 2024? If you look for the answer to this question, read the blog to discover the top 11 mobile app development trends dominating the mobile applications industry.
Top Mobile App Trends 2024
1. AI and ML
The AI market will grow from $2.5 billion in 2022 to $38.5 billion in 2028. 
Artificial Intelligence and machine learning have become prerequisites for modern-day smart mobile applications. 
AI and ML have a strong role to revolutionize the mobile app development industry. Integration of AI and ML in mobile application development enables applications to handle various tasks. Therefore, it enables mobile app owners to enhance user experiences significantly, ultimately resulting in improved customer retention and loyalty to their apps.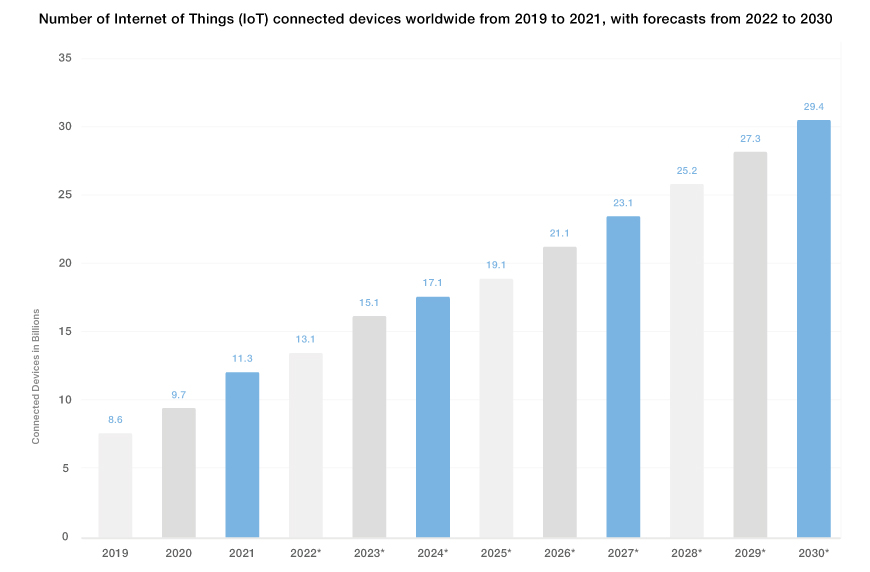 2. IoT (Internet of Things)
The current count of IoT devices is 14 billion. The figure is anticipated to double and reach

25.44 billion

IoT devices by 2030.

 

There are 11.3 billion IoT devices connected to the web worldwide and they are predicted to reach 29 billion in 2030.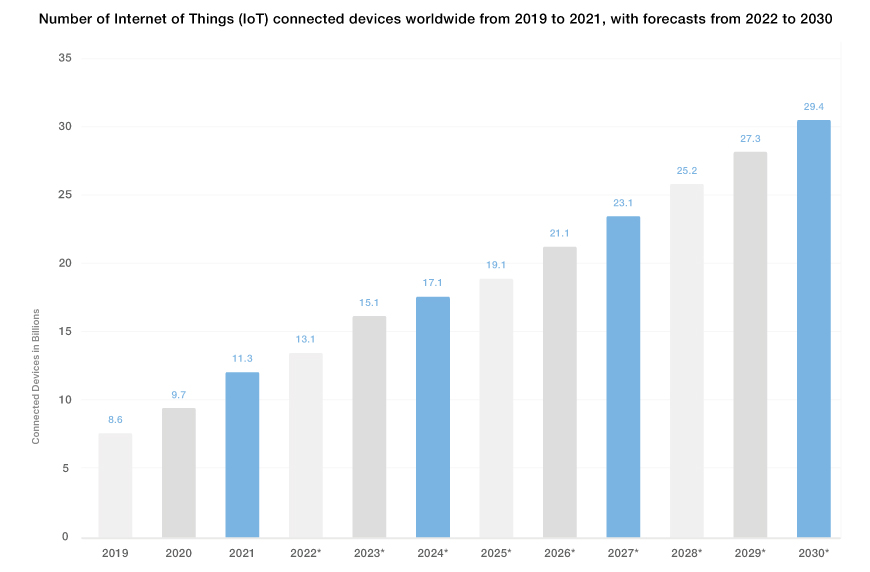 IoT is a network of physical devices connected through the internet with a smart mobile app. The IoT mobile applications collect and analyze all the data and information. The information helps users control IoT devices remotely through their mobile apps. For instance, TV, Air conditioner, fans, lights, etc. The Internet of Things has made the lives of people more convenient. The developers take care to design and develop IoT mobile apps with a simple and user-friendly design. 
3. Big Data
Big Data represents one of the latest and most influential trends in mobile app development. With the proliferation of smartphones and the vast amounts of data they generate, mobile apps are increasingly incorporating advanced data analytics, artificial intelligence, and machine learning techniques to gather, process, and leverage this data effectively. Companies analyze this data to gain deeper insights into their customer behaviours, choices, likes, and dislikes. 
The mobile applications market is matured, and every business owner is competing to serve the best services to their customers. A detailed insight into their target customer's shopping preferences and choices is a great aid for them to plan their services and marketing strategies. 

Predictive Analysis
Data-driven analysis or predictive analysis is another mobile app development trend in 2024, high in use by enterprises. The analysis of users' browsing behaviour and shopping preferences helps companies provide personalized recommendations. 
For example, Walmart uses data to understand buying behaviour on a personalized level. Netflix recommends and suggests TV shows and movies based on users' watch habits. 
a. Super Apps
A Super app is an on-demand mobile application that provides multiple services. For example, a single app that enables users to order food online, chat on social media and make payments.
Currently, it is one of the most popular mobile app development trends observed in 2023. The Chinese multi-purpose instant messaging app WeChat is a great example of a super app that has over 1.26 billion monthly active users.  
Super apps are popular as they solve multiple problems in a single place. Thus, people no longer need to switch applications for different actions. They can have a single super app installed in their mobile apps to perform a variety of actions. According to Statista, 67 percent of consumers in the United States prefer having multiple services in one super app.
4. Blockchain Technology
Blockchain is known and widely used by companies in mobile app development for mainly three reasons:
Create a secure and reliable environment
Enable secure payments
Enable safe access to data.
Blockchain technology helps in storing each data in small, secure blocks. The encrypted data blocks are safe as the high-level cryptographic hash prevents hackers from altering the data. 
Blockchain provides a crucial security advantage for sectors like finance, banking, and insurance, facilitating secure and transparent multi-user transactions. Blockchain technology has seen rapid growth in other industries as well. The technology offers many tools and technologies to make developer's lives easier with regular updates.
5. App Development For Foldable Phones
Foldable phones are the latest trend in the mobile app development industry. Android operating system supports foldable phones, and many companies have launched their foldable phones. For example, Samsung Galaxy Z Fold 4, Samsung Galaxy Z Flip 4, and others.
A large number of smartphone development companies use Android as their operating system. Each company is launching foldable phones with different foldable patterns and features. The developers ensure smooth and seamless transitions between screens and mobile app stability.
6. Voice & AI Chatbots
Voice assistants have seen tremendous popularity and are currently an integral part of every smartphone. Google, Siri, and Alexa have become a trend for advanced and quick search or to make your smartphones perform activities of your choice. It is a more convenient option and is preferred by senior citizens, kids, and adults alike. 
Voice assistants have made it easier for people to operate their mobile applications. AI-based chatbots are another addition to this. The AI-based chatbots enable business owners to connect with their customers in real-time. The users can ask their queries anytime to get a prompt reply. Application development companies can use this trend to deliver custom applications with enhanced customer experiences. 
7. Cloud Computing
In Mobile Cloud Computing, the mobile applications are stored on a cloud or remote server. Users can access mobile applications and their data flexibly through a cloud server.
We all use cloud applications regularly without much of our attention. For instance, Gmail is a cloud application that we use each day to exchange emails several times. Further, we spend several hours streaming our favorite movies or web series on Netflix which uses AWS Cloud for its services.
Cloud computing makes data storage, access, and exchange much more flexible and quicker. Users can easily access all types of applications anytime regardless of the operating system. Further, cloud computing is more secure and reliable for data backups.
8. 5G Services
Higher internet speed is the key as customers demand high-responsive mobile applications. A faster connection improves the number of connected devices that can access the internet in one space. 
With the lightning-fast speeds and ultra-low latency provided by 5G networks, real-time apps have become even more responsive and seamless, offering users instant interactions and data updates.
Immersive AR apps have also benefited, as 5G enables smoother and more immersive augmented reality experiences, making it easier for users to engage with AR content. 
Furthermore, streaming apps have reached new heights of quality and convenience, offering buffer-free streaming and higher resolutions. 5G unlocks the full potential of real-time, AR, and streaming applications for users worldwide.
9. Beacons Technology
Beacons Technology is enabling business owners to reach their target audience and serve them better in different ways. The tiny wireless transmitters help businesses serve personalized services to customers. Beacons work on Bluetooth technology to detect human presence in surroundings and collect precise location.
Thus, beacon technology is helping business owners target potential customers with their location-based information. Location-based information empowers retailers to precisely target customers with personalized messages, such as discounts and coupons, while they are shopping in-store. This strategy can not only boost customer engagement but also increase foot traffic as shoppers receive enticing notifications about special offers.
10. Wearable Devices
Wearables technology includes many gadgets that people can wear on their bodies. The wearable mobile applications make these wearable devices perform many activities like tracking and monitoring body signals or exchanging information.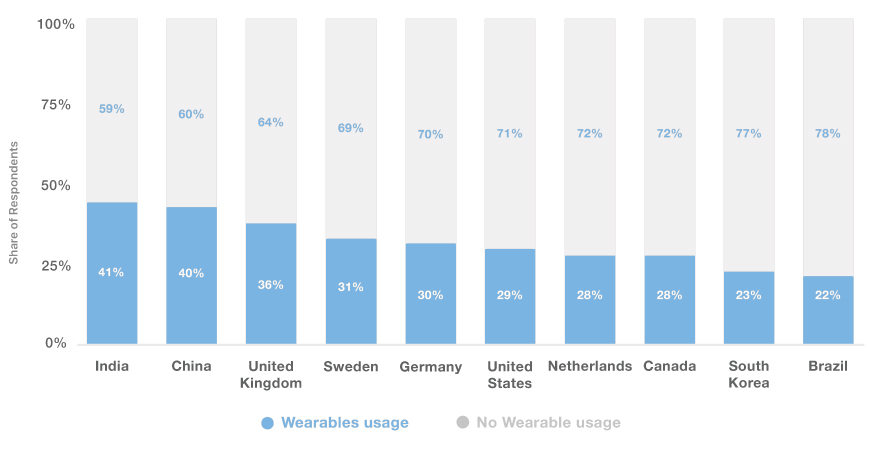 Wearable technology has its application in almost every industry, including healthcare, entertainment, logistics, retail, etc. The wearables market and demand are on a constant surge as it delivers convenience and ease of use. 
Examples of Wearable Devices

11. AR Technology
Augmented Reality is the latest mobile app development trend. With AR technology, mobile apps are taking user experiences to a whole new level, blending digital elements with the real world. From interactive gaming and immersive shopping experiences to practical utility apps, AR is reshaping how we interact with and perceive the digital realm.
Augmented Reality (AR) in mobile app development is a huge success and the biggest example of it can be explained with popular examples like Pokemon Go and Snapchat filters. 
The use of digital elements to overlay real objects is taking the user experience to a different level. AR technology enables retailers to deliver enhanced shopping experiences to users by letting them virtually try the products before purchase. 
For example, Ikea enables its users to use their mobile screens to overlay a piece of furniture in their room, dining area, or any corner of their house to see how it looks. Such an application helps users make better and more satisfying decisions. 
Other AR Applications:
L'Oreal

uses AR in its mobile application to enable users to virtually try the makeup on their faces.

Lenskart enables

3D try on

allowing users to try different frames and glasses to see how they look before buying them.
Conclusion
So, these are the 15 top mobile app development trends in 2024 that we deliver in our custom mobile app development services.
At UCS, we always try to adopt new and advanced trends and technologies to deliver top-notch services worldwide. Each day we strive to serve our customers with better solutions.
As a leading mobile app development company, we create and customize mobile applications for multiple industries like healthcare, retail, finance, etc. As a business owner, if you want to build a mobile application or if you want guidance on your next mobile app development project, feel free to contact us. Call us at (+91) 799-034-5845 to book a free consultation.